5 REASONS WHY EPOXY USERS ARE SWITCHING TO SWISSTRAX GARAGE TILES
When it comes to choosing a method to cover your concrete garage floor with a premium surfacing, the most widely known solution is epoxy. Why? Epoxy coatings are durable, attractive, and relatively easy to clean. But are they really the best option for your garage or concrete floor? See why so many people are choosing Swisstrax over epoxy.
---

Durability
As one of the thickest garage floor tiles on the market, Swisstrax tiles are designed to withstand 60,000 lbs rollover weight to accommodate even the largest vehicles. They are used extensively in professional garages, detailing shops, and other high-traffic environments.
Swisstrax tiles help combat some of the common issues often faced by epoxy coatings including resistance to road salts, hot-tire pick up issues, slip-resistance, and scuffing.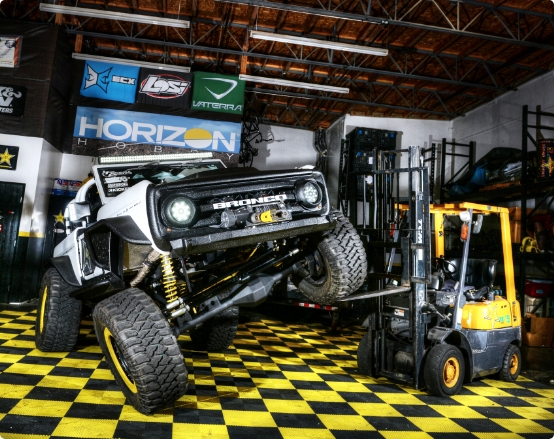 ---

Longevity
Swisstrax garage tiles are easy and inexpensive to maintain. They are built to last a lifetime and are backed by a limited lifetime warranty. Unlike epoxy coated floors Swisstrax tiles don't peel, chip or fade. If you damage a tile or want to change up a design, Swisstrax interlocking design allows you to easily swap and replace tiles.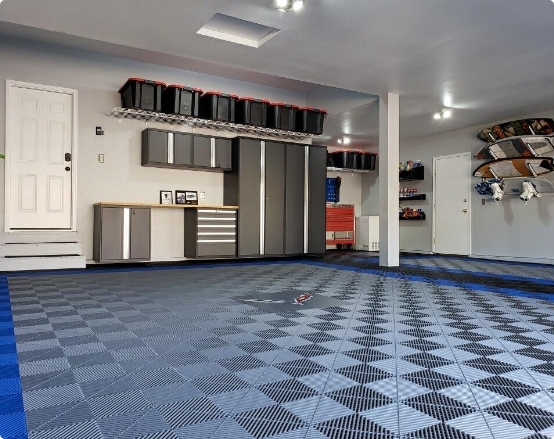 ---

Value
Thanks to the durability and longevity of Swisstrax tile, its lifetime cost is typically significantly lower than epoxy flooring. Compared to epoxy garage floors, Swisstrax tile floors don't need to be refinished every few years.
Even better - you can take your investment with you if you move to a new home.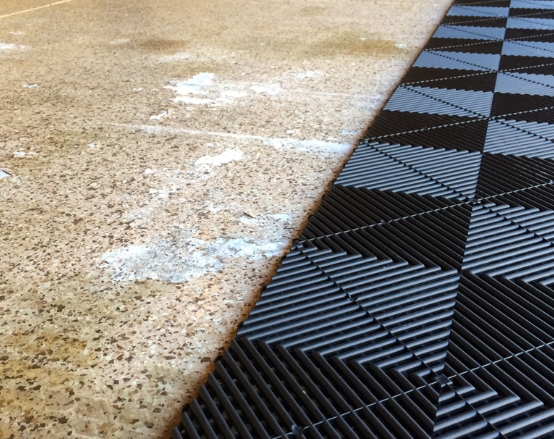 ---

Installation & Maintenance
Swisstrax tiles install in hours, not days, in any weather conditions. They don't require any hazardous chemicals or specialized equipment, and you can drive on Swisstrax floors immediately after installation.
Once installed, the Swisstrax perforated tile channels all liquids and debris out through your garage opening so your floors stay cleaner and dryer. When it's time for a periodic cleaning, the highly engineered channeling system makes clean up a breeze. Learn how to clean Swisstrax systems.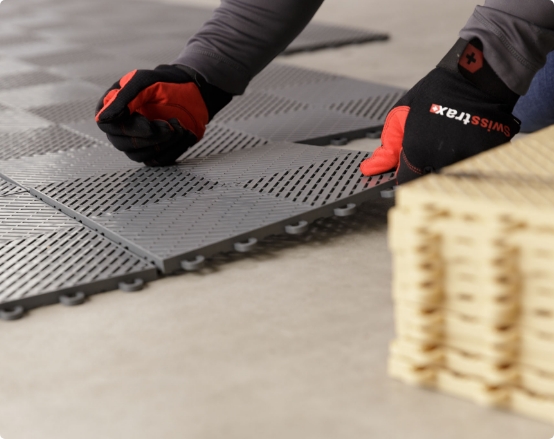 ---
More Design Freedom
Epoxy floors may be attractive, but they don't really allow for much design freedom. Our Ribtrax tiles feature a distinctive, two-tone look and come in 18 colors that can be further customized and accented with 4 wood-look options, a carbon fiber look, and custom graphics or logos for virtually unmatched design freedom. View Garage Flooring Ideas.
18 Ribtrax Tile Color Options
---
4 Wood-look & Carbon Fiber Options
---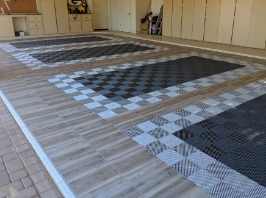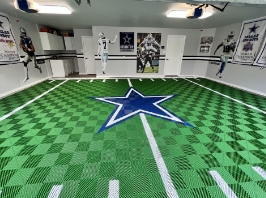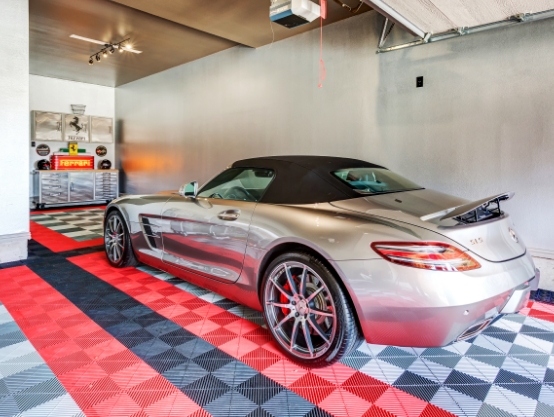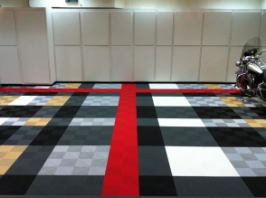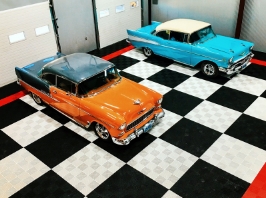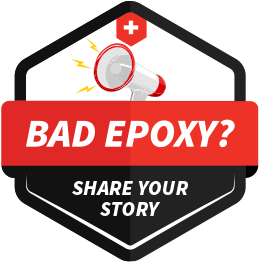 We Want to Hear Your Epoxy Story
If you are one of many people who switched to Swisstrax from epoxy garage floors, we want to hear your story! Tell us about your struggles with epoxy and why you decided to search for a garage floor alternative. Share pictures and videos of your garage for a chance a $300 Visa Gift Card.
Tell Us Your Story

Tile vs. EpoxyComparison Chart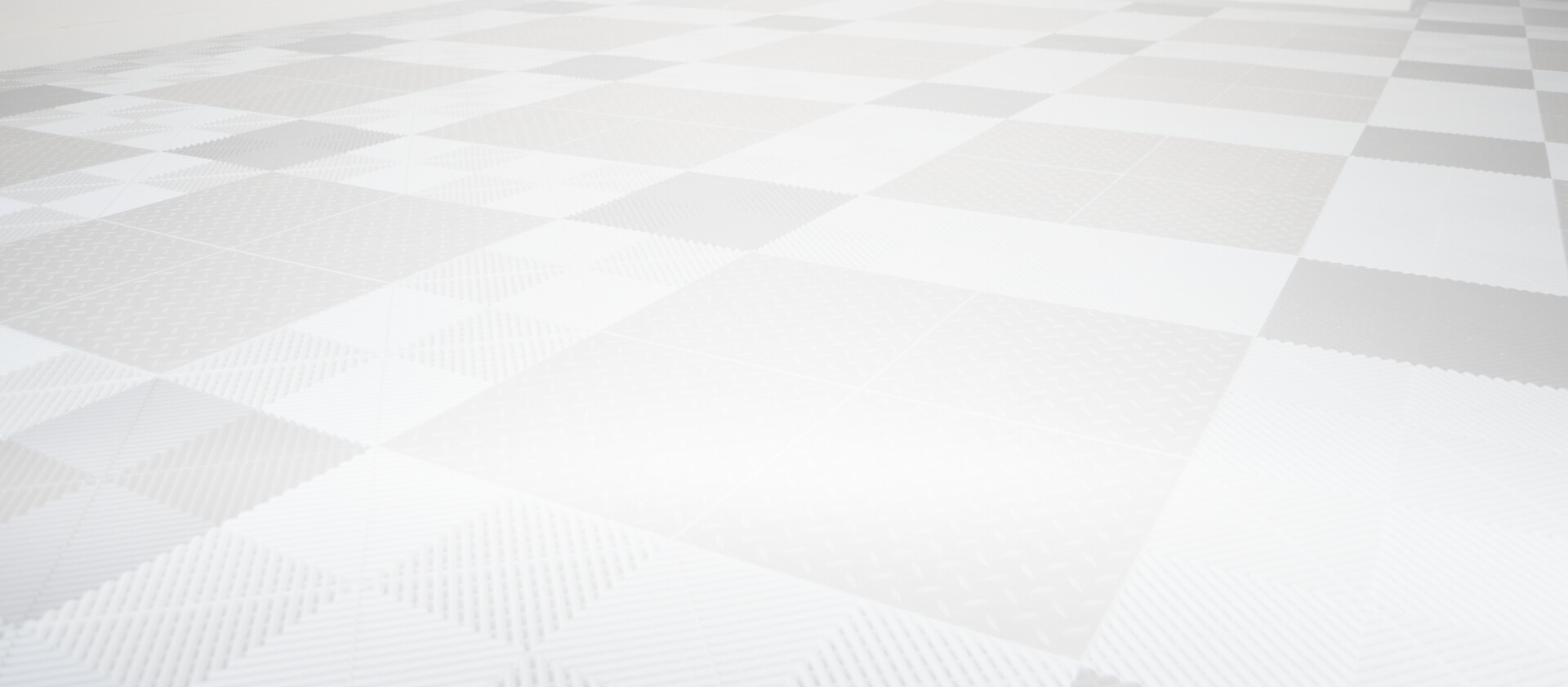 How to Get Started