Compare Swisstrax to Epoxy Garage Floors 10 Reasons to Choose Swisstrax Floor Tiles Over Epoxy
When it comes to choosing a method to cover your concrete garage floor with a premium surfacing, the most widely known solution is epoxy. Why? Epoxy coatings are durable, attractive, and relatively easy to clean. But are they really the best option for your garage or concrete floor? See why so many people are choosing Swisstrax over epoxy.
---

More Design Freedom
Epoxy floors may be attractive, but they don't really allow for much design freedom. Our Ribtrax tiles feature a distinctive, two-tone look and come in 18 colors that can be further customized and accented with 4 wood-look options, a carbon fiber look, and custom graphics or logos for virtually unmatched design freedom. View Garage Flooring Ideas.
18 Ribtrax Tile Color Options
---
4 Wood-look & Carbon Fiber Options
---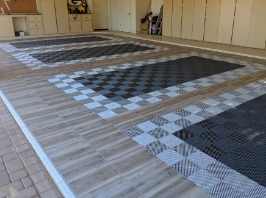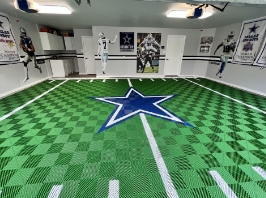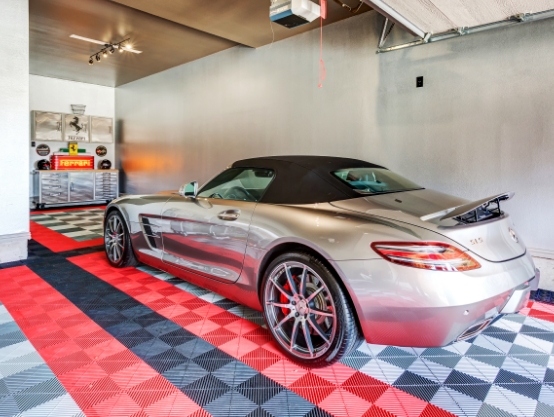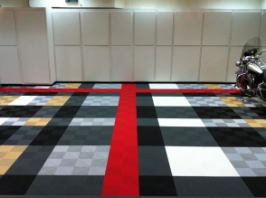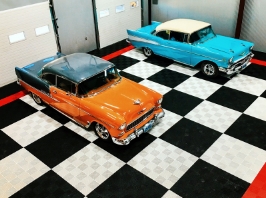 ---

Swisstrax Floors Trap Dust, Dirt & Grime
Swisstrax Pro tiles stand ¾" above the garage surface and feature a perforated, flow-through design that hides dust, dirt and grime. Basically, with Swisstrax, your garage floor stays clean longer. No more tracking dirt and grime into the house. No more weekly cleanings.
---

Easy to Clean
Because Swisstrax perforated tiles hide the dirt, dust and grime under the surface, they eliminate the need for the regular cleaning associated with epoxy floors. When it is time for periodic cleaning, the highly-engineered channeling system makes clean up a breeze. Learn how to clean a Swisstrax floor.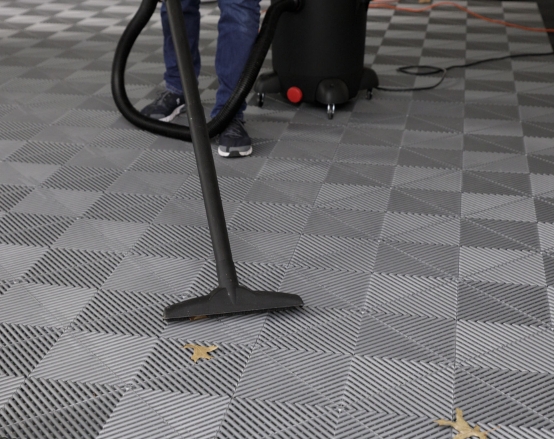 ---

Eliminates Hot Tire Pick-up Issues
"Hot tire pick-up" is a condition whereby epoxy coatings become soft and weak, often adhering to the hot tires parked on top of the epoxy floor. This issue can make it challenging to clean tire marks off the epoxy, or even worse, it could lead to the epoxy separating from the underlying concrete floor.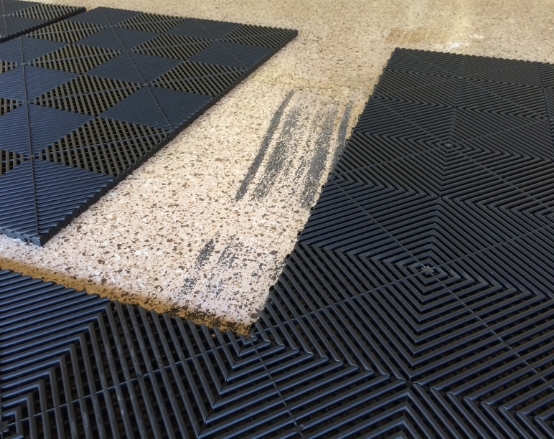 ---
Easier to Replace
Coated surfaces are great until you drop a heavy tool on them, or the concrete under them cracks, or hot tires cause them to peel or fade in the sunlight. Swisstrax tiles cover your floor, hide any cracks, and feature an interlocking mechanism to easily replace individual tiles.
---

Non-Puddling & Slip-Resistant
One of the biggest complaints about epoxy garage floors is that they are slippery when wet. The innovative, perforated design of Swisstrax's Ribtrax tiles solves this problem by allowing water and other fluids to pass through to its Swiss-engineered channeling system.
---

Safer, Quicker & Easier to Install
Most importantly, you don't need to subject your family to the chemicals and fumes used in the epoxy coating process. Laying a Swisstrax tile garage floor is a relatively easy DIY project that takes hours, not days and requires no special training, no harsh chemicals. Learn more about installing Swisstrax tiles.
---

More Comfortable
There is little debate that an epoxy coated concrete floor is still essentially a hard, cold surface. The ¾" tall Swisstrax Ribtrax Pro tiles come in a smooth and ribbed surface and provide a buffer between you and your concrete floor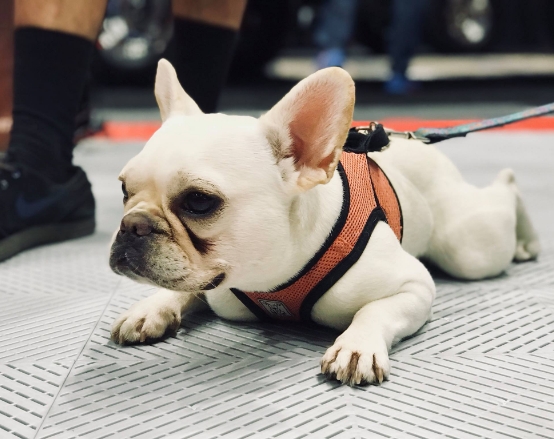 ---

Better Long-Term Value
A Swisstrax floor is often similar in price or less expensive than a professionally installed epoxy floor and that is without considering other cost benefits - how much longer it can last, how easy it is to replace tiles, how you can take it with you if you move…and more. Learn more about the long-term value of Swisstrax.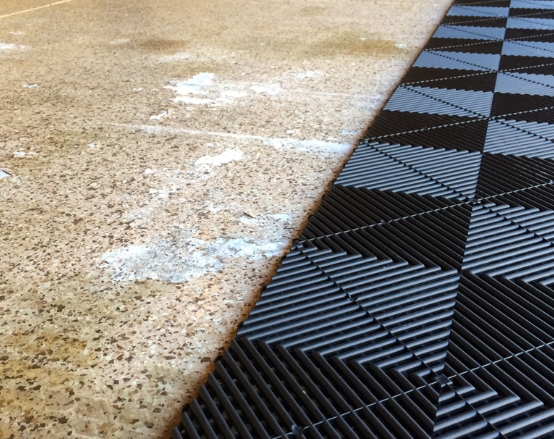 ---

The Swisstrax Team
Best of all, when you buy from Swisstrax, you'll be working with people who live, eat and breath garage flooring (not literally). Our team can help you select the right tile for your project, develop designs and answer all of your questions.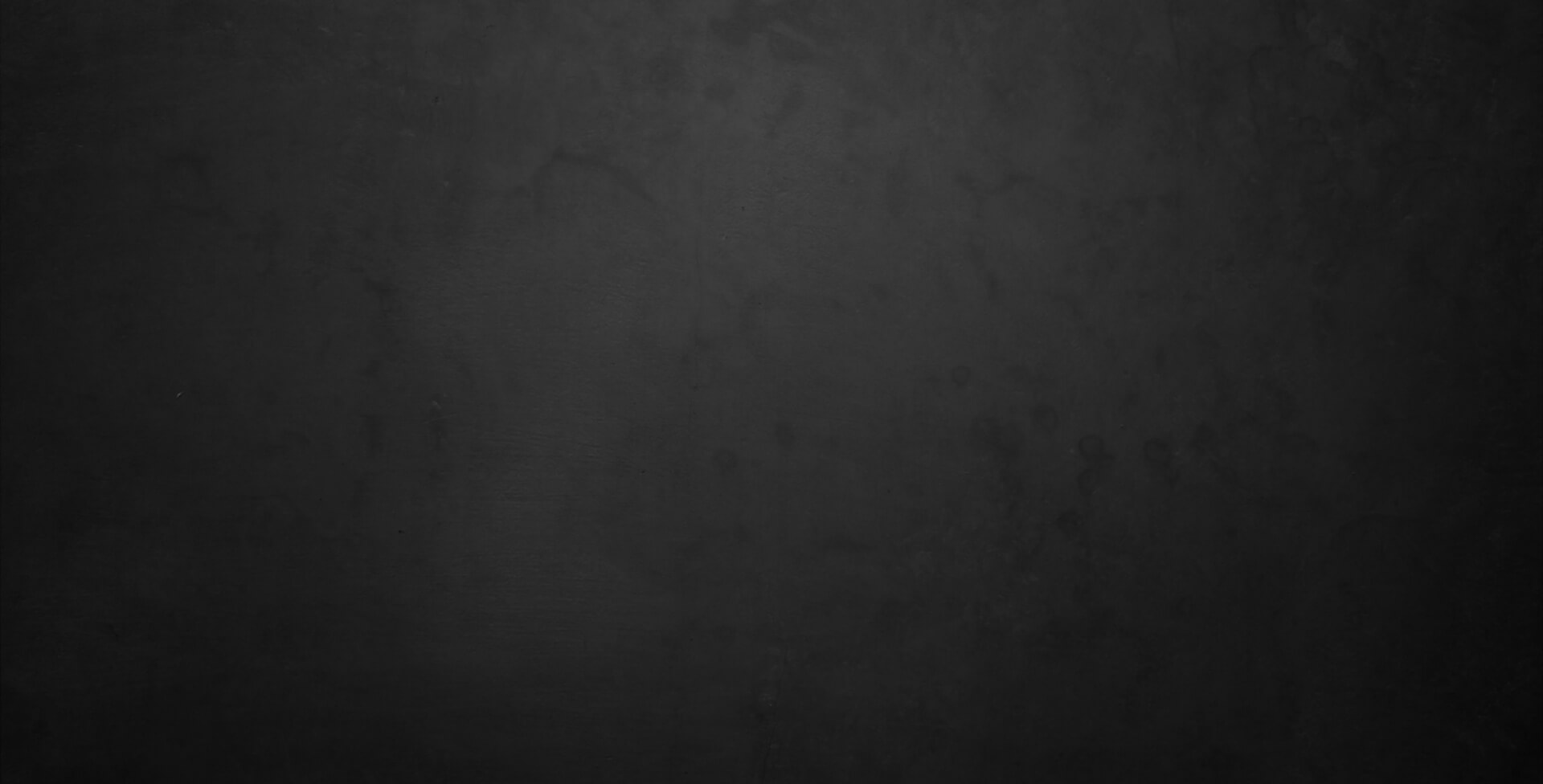 See Why Others Chose Swisstrax over Epoxy
Don't just take our word for it, see why others prefer Swisstrax.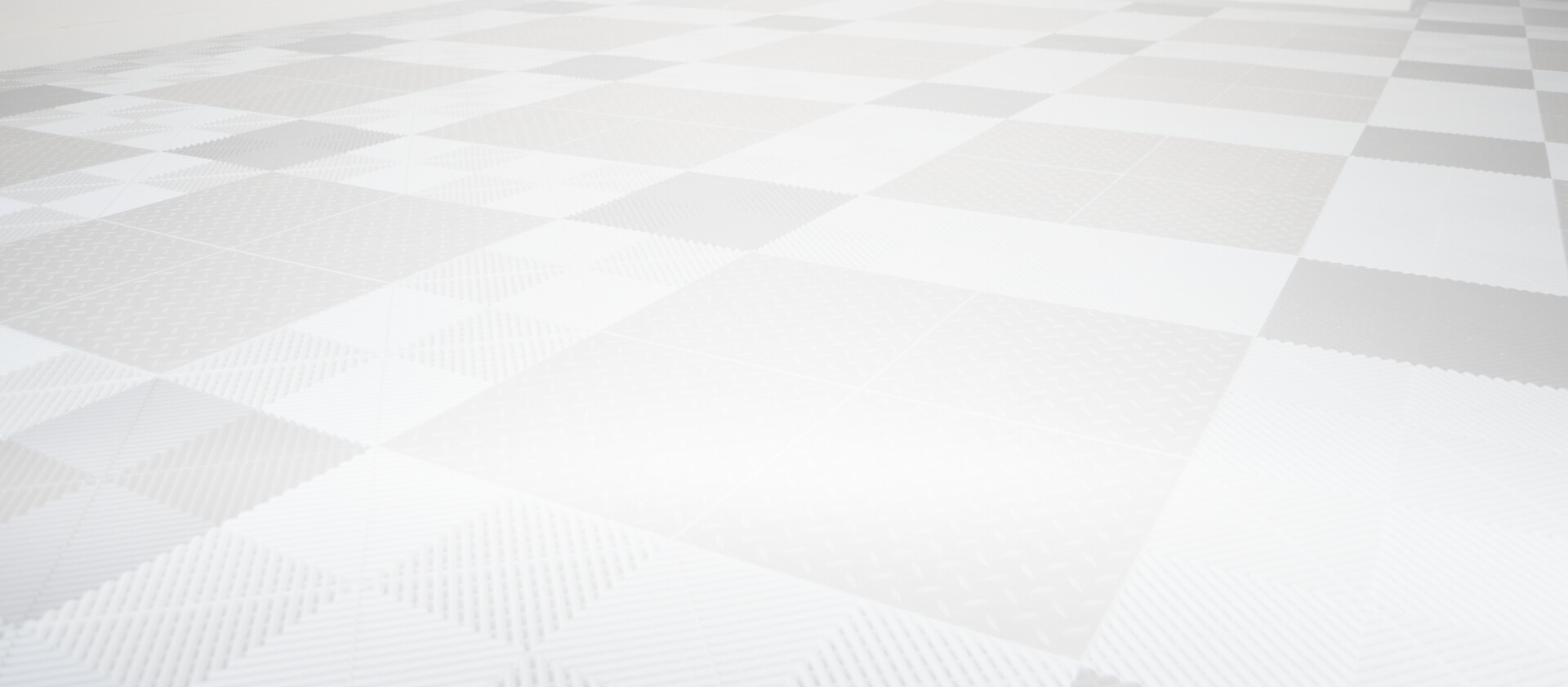 How to Get Started