What is the Cost to Update
a Garage Floor?
Key Factors of Garage Floor Costs
Design and install an eye-catching garage floor that is durable, strong, and lets you customize it to match your desired aesthetic. First consider which garage flooring surface alternative you'd like in your garage: interlocking tiles, epoxy, polished concrete, paint, or roll-out vinyl. All these garage surfacing options have different benefits and costs, but here we will focus on the benefits of surfacing your garage floor with interlocking garage tiles. Swisstrax garage floor tiles can average between $4.49 to $7.75 per square foot.
Swisstrax Versus the Alternatives
There are 6 big benefits of Swisstrax garage flooring versus alternatives like epoxy, sealed concrete, or paint include: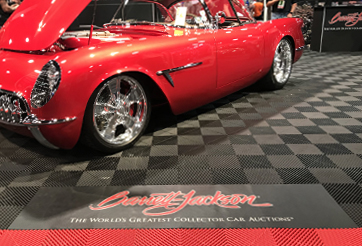 Customizable
Choose from a large selection of tile types, tile colors, and you can even add special artwork or logos within the Swisstrax tile flooring system for a branded garage floor finish.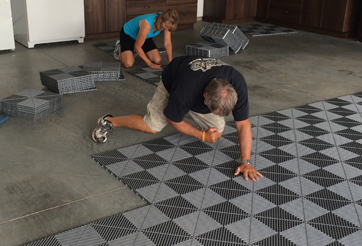 DIY Solution
Swisstrax tiles are the easy, do-it-yourself solution for design and installation. Installation only takes a few hours and it lasts for decades.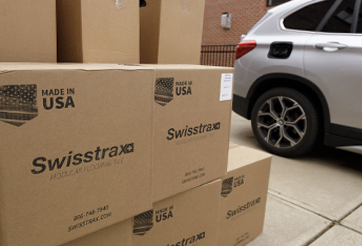 Portable
Our tiles can easily disassemble to move when you move. As a portable option, your garage flooring investment doesn't go to waste if you decide to move.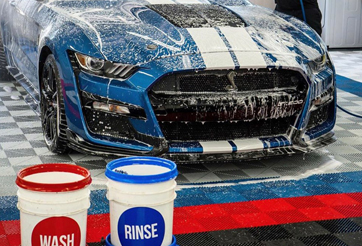 Low Maintenance & Safe
As a suspended modular flooring solution, Swisstrax tiles allow dirt, debris and liquids to flow through the tile leaving a clean and dry surface. Channels built below the tiles make cleaning the floor a breeze.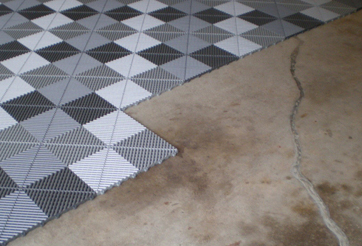 No Prep
With a Swisstrax system, there is little to no prep work. No prepping the concrete, filling cracks, leveling low areas, etc. Simply install Swisstrax tiles over the existing floor.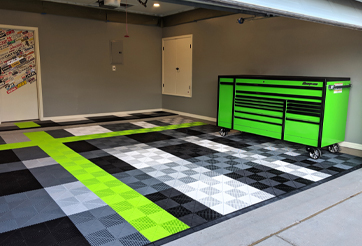 Stand out from the Crowd
Have your garage stand out from the rest of your neighborhood. Be the talk of your block.
Swisstrax Versus the Competition
We started our business exclusively in garage flooring, so after 25 years in the interlocking tile business, we still provide the highest-quality, most durable, and sophisticated swiss-engineered tile design that offers functional and customizable benefits.
Made in the USA, Swisstrax garage flooring tiles are the chosen interlocking tiles by internationally known brands like Barrett-Jackson, Ford, Rockstar Performance Garage, and more. We also partner with a variety of garage brands & influencers that trust and actively promote our garage flooring systems to their customer base.
Swisstrax Garage Floor Options
From our signature Ribtrax Pro tile to the customizable Graphictrax Pro, you can learn more about Swisstrax tiles with our Product Filter that allows you to choose the perfect Swisstrax tile based on your application. However, we have provided quick recommendations on Swisstrax tiles designed for garage floors.
Compare Our Tiles
*To be used around perimeter of garage. Vehicles should not be parked long-term on Vinyltrax Pro tiles.
Benefits of Choosing /Swisstrax Garage Flooring
We know new garage flooring can be a substantial investment, and we believe buying premium flooring should come with superior confidence. The Swisstrax team is dedicated to providing superior customer support and is always available to answer any of your flooring needs or questions. Here are some of the added benefits of choosing Swisstrax for your garage flooring needs.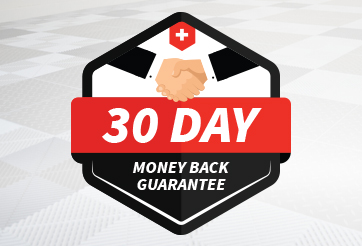 30-Day Money-Back Guarantee
If you're not satisfied, we're not satisfied! We are committed to offering an elite class of modular tiles and customer service. If for any reason you feel that our products or services did not live up to your expectations, we offer a 100% money back guarantee for 30 days. In other words, you are fully protected for 30 days from the time our products are delivered! Please see details for more information and exceptions.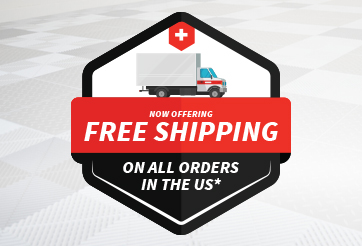 Free Shipping on all orders over $100 in the contiguous USA
When you purchase with Swisstrax, shipping is one less expense you'll have to worry about. Swisstrax offers free shipping to orders greater than $100 and in the contiguous United States.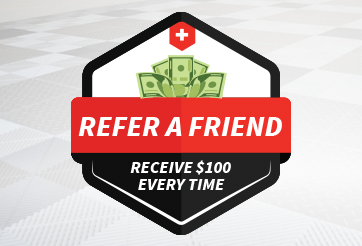 Refer A Friend Program
We know our customers love their Swisstrax flooring and can't wait to share their experience with family and friends! To show our appreciation, Swisstrax offers $100 for every referral! Have your referral call 866-748-7940, or reach out to your personal flooring expert, and mention your name and order number. Once their order of at least 200 sq/ft ships out, you will receive a $100 gift card as a token of our appreciation…EVERY TIME!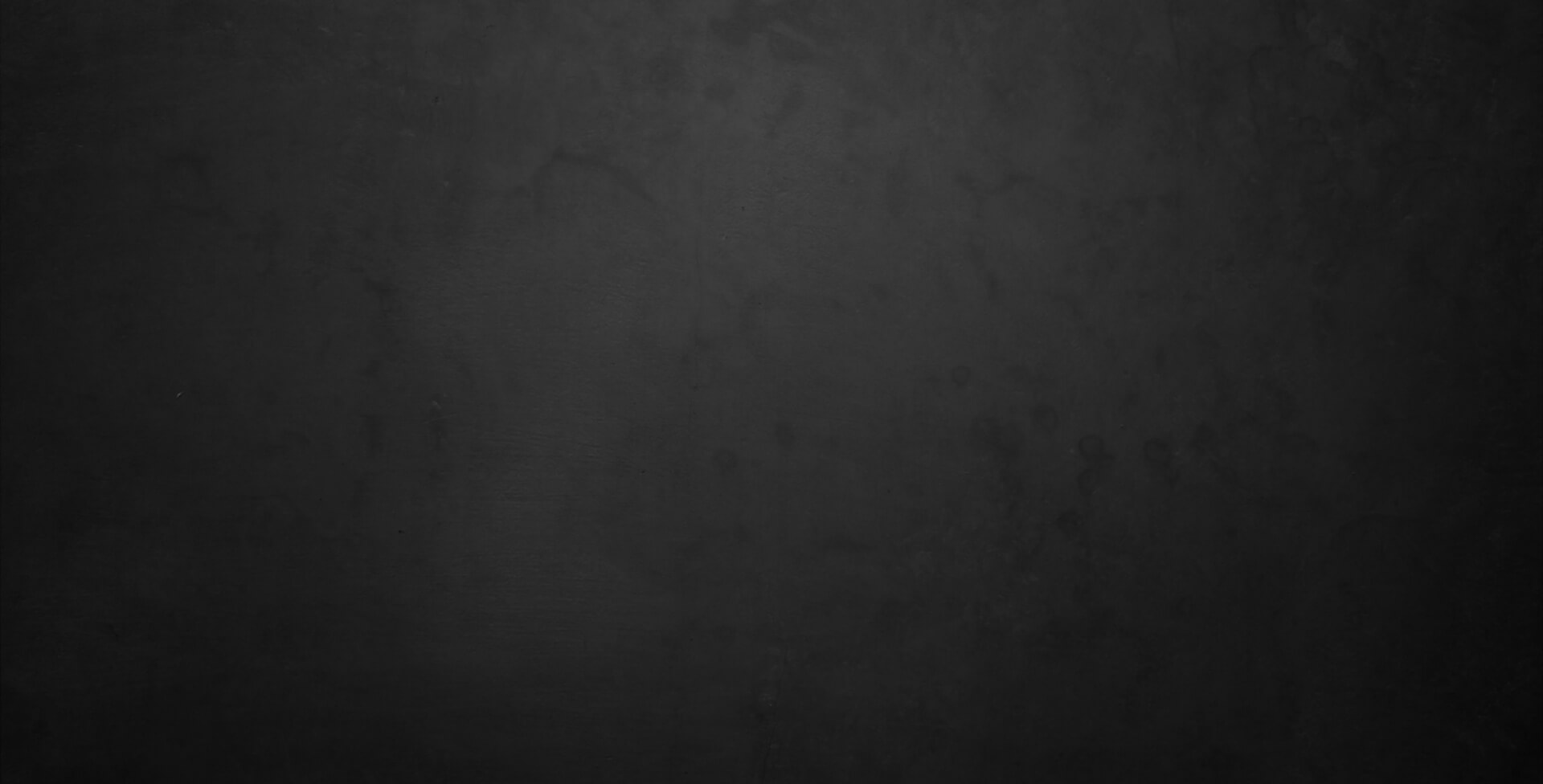 Choose Swisstrax for / Your Garage Floor
The cost of upgrading your garage floor can vary greatly depending on which application type you want to use - tiles, epoxy, resin, or paint. Swisstrax garage floor tiles are the only alternative that offer unique customization options, work to actively protect your sub-floor, move when you move, and just look really good!
Interested in Swisstrax garage floor tiles?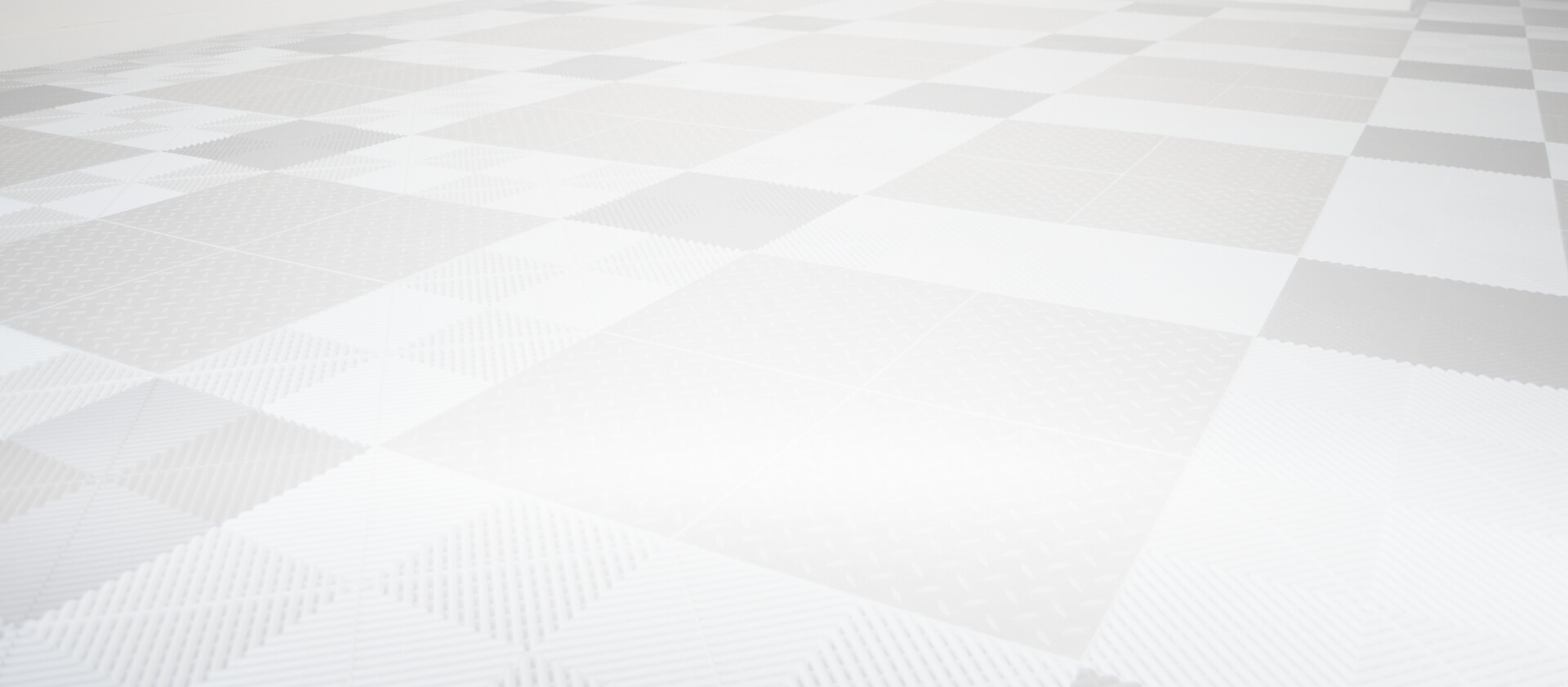 Get Inspired!
Swisstrax customers build big, bold designs with our garage flooring. Browse through these garage flooring design ideas to get inspired for your next project.