How Do You Clean and Maintain a Garage with Modular Flooring?
Cleaning Garage with Modular Flooring
Cleaning and maintaining your modular garage floor tile system is easy to do with Swisstrax garage floor tiles. Some basic tools are required for cleaning, and we provide step-by-step guides on aspects of cleaning your Swisstrax garage tiles.
How often do I need to clean the garage floor tiles?
How often you must clean your garage floor tiles is dependent on how you utilize your garage. Are you just parking your car in the garage, or are you using it as a workshop to work on cars? Others might use their garage for DIY home projects which means the potential for wood shavings or arts & crafts debris. It's obvious that the more projects you do in your garage, the more likely you are to have to clean your floor more often.
What tools and cleaning solutions are needed to clean garage floor tiles?
Again, depending on how you use your garage, tools for cleaning can vary. Below are some suggested tools and cleaning solutions advised for cleaning garage floor tiles.
Wet/Dry Vacuum
Pressure washer
Tools and cleaning solutions we advise against using include bleach and wire or hard bristle brushes to scrub the tile.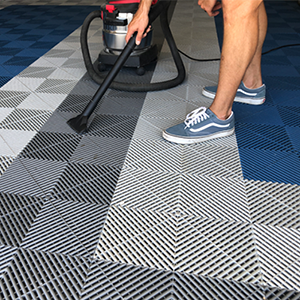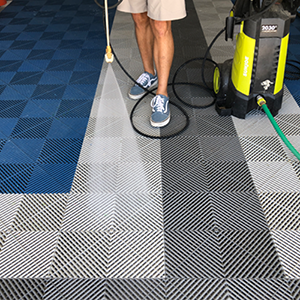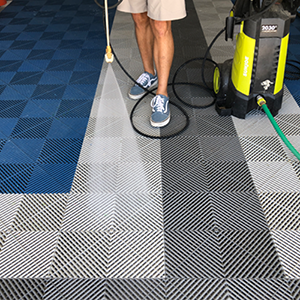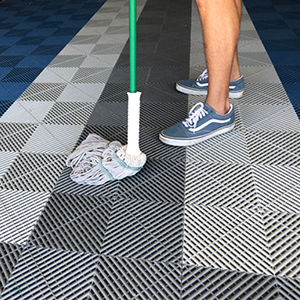 Cleaning & Maintenance Tips
Swisstrax provides several DIY videos to guide Swisstrax owners on certain aspects cleaning and maintenance their modular floor systems.
How to Remove a Single Tile
Full Floor Cleaning
Swisstrax partners with a variety of modular flooring owners. RAD Garage is a detail shop owner based in Canada. This Swisstrax floor owner provides a detailed video description on how to completely remove the entire garage floor system to give both the Swisstrax tiles and the subsurface a thorough cleaning.
For those who do not want to remove the entire Swisstrax garage flooring system, we recommend to:
Use a shop vacuum to pick up excess debris under the tiles first.
Then use a garden hose or power washer to spray the floor starting from the back of the garage, moving towards the entry way.
Overall, cleaning and maintenance of your Swisstrax modular garage floor system is dependent what you do in your garage and how clean you prefer to keep your garage floor. Swisstrax floor systems are designed to push debris and dirt to the subsurface of your floor, so you don't have to worry about the overall look and functionality of your floor on a regular basis.
Learn more about cleaning Swisstrax garage floor tiles with our online resources or through our various partners featured on YouTube, Facebook and Instagram.
Ready to get started? Shop online, get a quote, or use our online 3D floor designer tool today. Or visit our main blog page for more helpful information about Swisstrax modular flooring systems.