Back in action at Barrett-Jackson
Swisstrax takes center stage with Ford, GM and Dodge!
Much to the delight of car enthusiasts everywhere, Barrett-Jackson, one of the world's most prestigious auto auctions, was back in action this past March in Scottsdale, Ariz. As the doors of the Sponsor Pavilion opened to more than 100,000 eager ticket holders and bidder badge wearers, their footsteps were greeted by the famous "Ribtrax Roadway" running through the iconic Ford exhibit. The visual impact of this incredible modular flooring system has become just as essential to their display as their dueling side by side Mustangs or their jaw dropping GT500. In fact, most of the flooring Ford laid out in January is still holding strong after more than a decade of use at up to 25 events each year! As patrons continued their journey throughout the Sponsor Pavilion, many of them made their first stop at the Swisstrax Modular Flooring booth.
There they were greeted by a knowledgeable flooring expert to help them design and order their very own custom floor. From there, excitement continued to build as the Racing Red lines of the Ribtrax Roadway opened to vast stretches of Pearl Silver and Pearl Grey beneath some of the most sought after and show stopping vehicles in the world. Major brands such as GM, Dodge, Lexus, Cadillac, Toyota, Cabinets by Haley and the Dupont Registry, utilized upwards of 100,000-square-feet of Swisstrax flooring to not only draw people in visually but also to ensure spectators had a clean, dry, safe walking surface to enjoy. Barrett-Jackson themselves utilized more than 40,000-square-feet of Swisstrax flooring throughout the event. Whether you were outside on the iconic Meguiar's staging lanes (drooling over the 1,054 cars that went across the block), enjoying a beverage at the bidder bar, or perusing the vast array of branded items in the Merchandise area, you were enjoying the comfort and ambiance of Swisstrax flooring.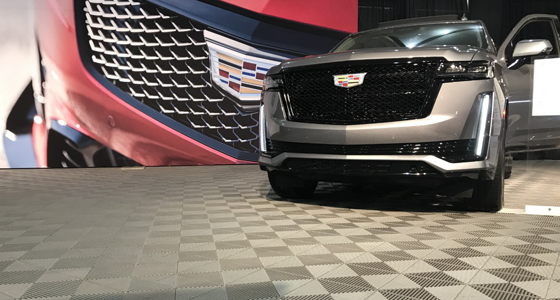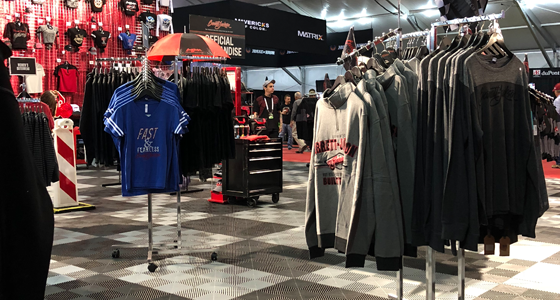 Even Craig Jackson outfitted his personal Motorcoach area so he could enjoy these benefits from the first step! From the eye-catching colors and unique self-draining design of Ribtrax, to the sleek, hardwood appearance of Vinyltrax, these premium interlocking tiles were seemingly everywhere! Many floors throughout the venue even featured our brand enhancing Graphictrax custom logos. Maybe you were fortunate enough to experience Swisstrax in person or perhaps you were one of more than 284,000 viewers that caught a glimpse on TV. Either way, we would love to help you achieve the same results for your specific flooring needs! No matter the application or project Swisstrax has you covered! Both purchase and rental options are available.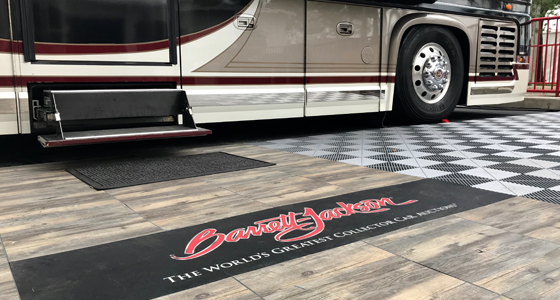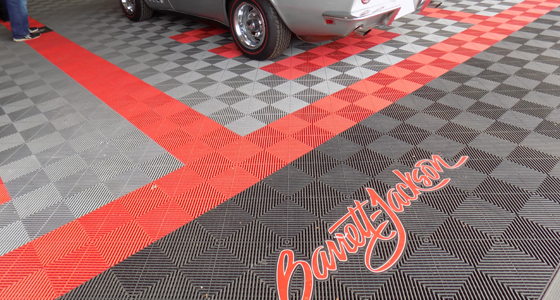 Ready to get started? Shop online, get a quote, or use our online 3D floor designer tool today. Or visit our main blog page for more helpful information about Swisstrax modular flooring systems.